The Most Reliable Container Tracking Software
Take advantage of the most reliable Container Tracking Software to get real-time container tracking from door to door. Be alerted when exceptions arise so that you can make better, faster decisions.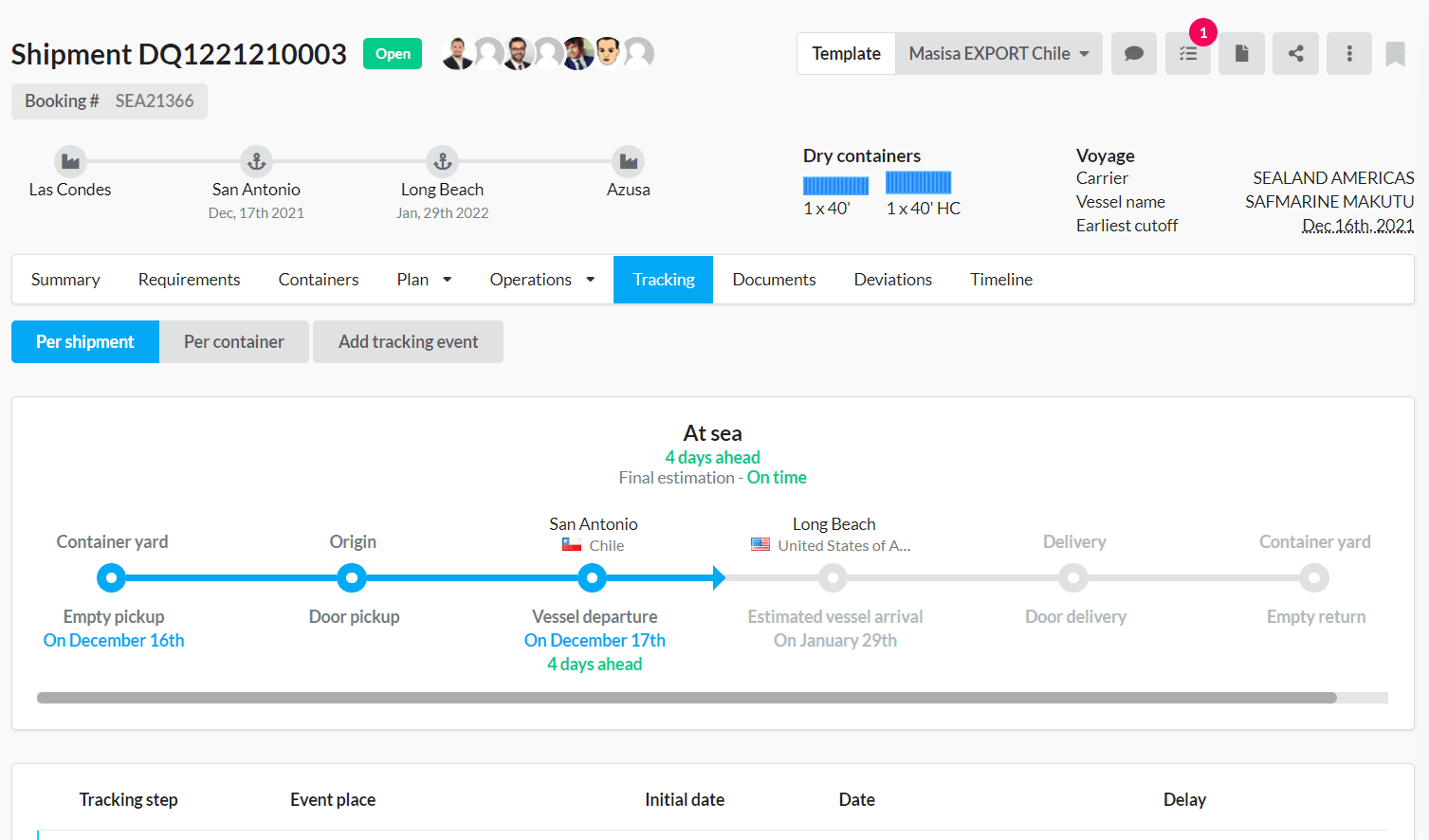 Real Time Container Tracking at Sea
Get reliable container tracking data coming directly from all your carriers and other sources in one place, in real time.
Access accurate ETDs/ATDs and ETAs/ATAs
Be alerted with delays, deviations, and exceptions in real time
View updates from your carriers in one place
Container Tracking at Your Warehouses or Industrial Sites
Your containers also pass through the responsibility of your on-site staff. Track your containers through the stuffing process: the gate in, inspection, stuffing, gate out, etc.
Track the status of your containers on site
View the locations of your containers on your sites around the globe
Be alerted with exceptions over your stuffing operations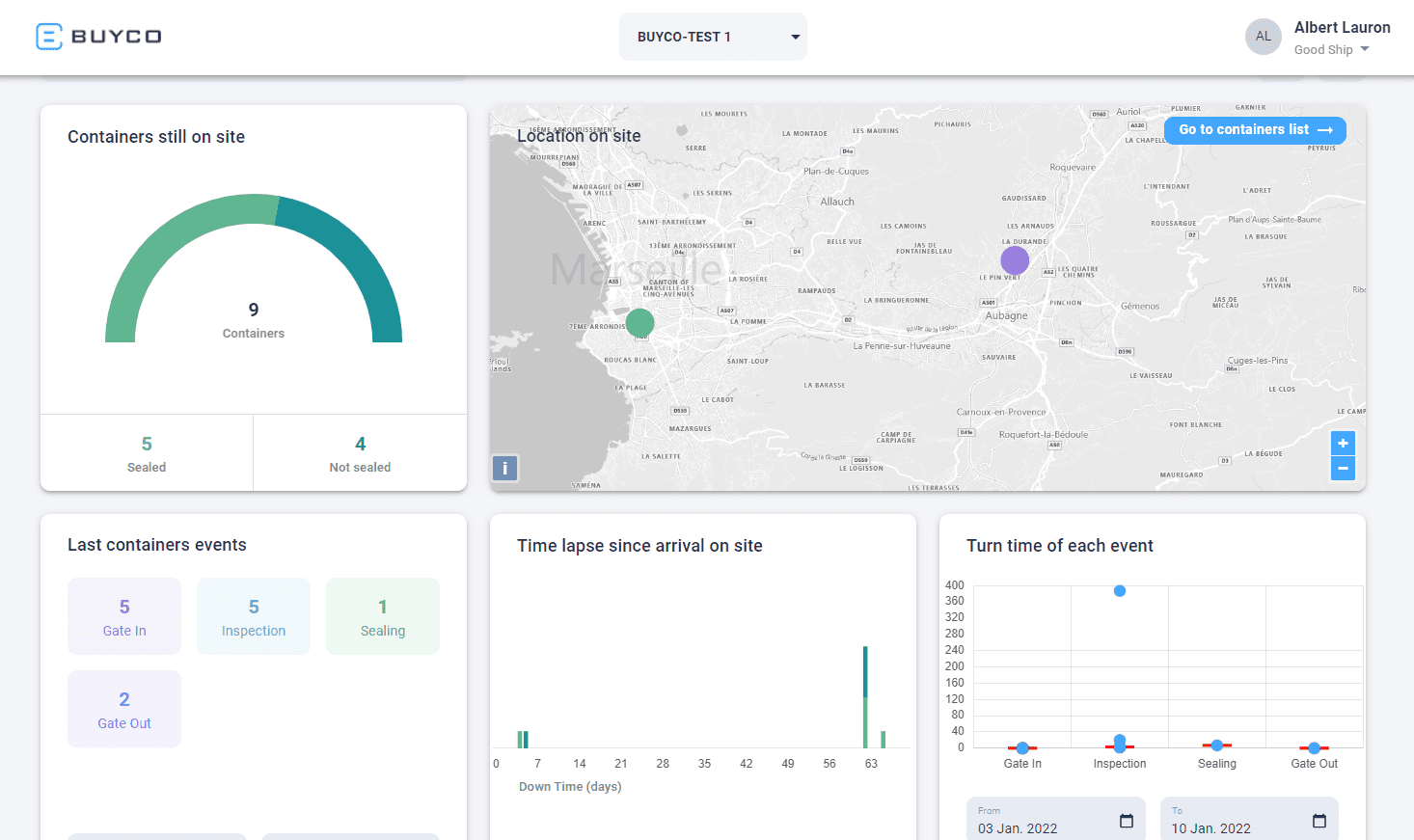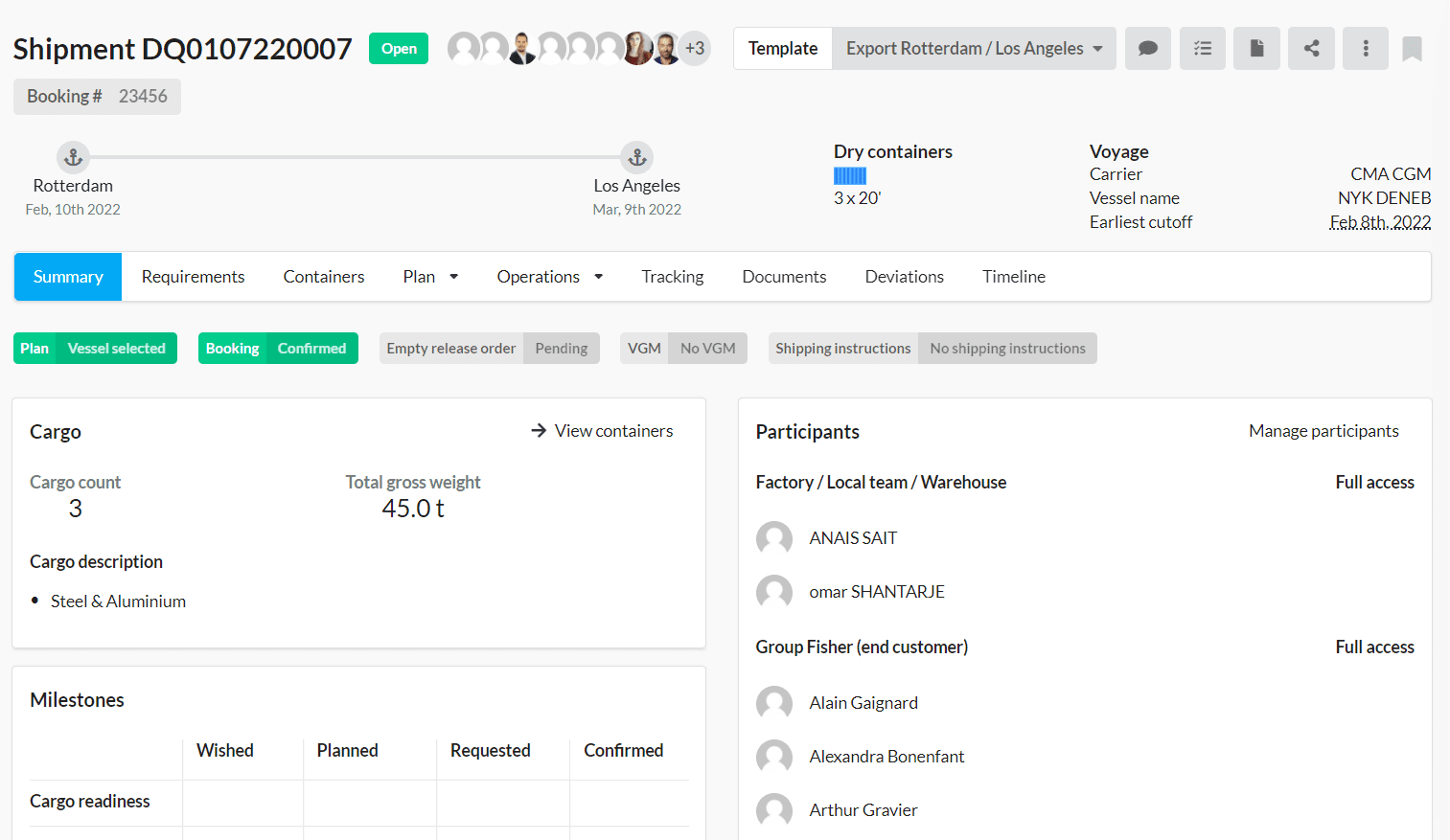 Complete Centralized Visibility
Find the information you need when you need it so that you and your partners can proactively avoid exceptions and delays.
Provide intelligent visibility to your teams, partners and customers
Predict risks and proactively avoid delays
View a complete history of all container events
Container Tracking Software FAQ
What is container tracking?
Container tracking is a complex operation that refers to knowing where your shipping container is at any given point of time throughout its journey from origin to destination. This includes pinpointing the location when it is transported by ocean carriers as well as road, rail and air. Modern container tracking solutions let you access tracking data from multiple sources to provide more reliable insights. With container tracking, businesses can get full real-time visibility over their domestic and international supply lines.
What is a container tracking software?
Container tracking software allows businesses to access data from several touchpoints through a single dashboard to get real-time visibility of container location. This software can be used to track multiple containers simultaneously. A container tracking software like BuyCo determines container locations through a reliable, direct connection with the shipping line and verifies container progress through various checkpoints such as departure gates, transfer ports, etc.  
How to track a shipping container?
Shipping containers can be tracked in multiple different ways. First off, it's worth noting that sometimes the location of your container is irrelevant, what's more important is the status of your container. For example, you may know that your container is in a given port, but knowing if the port is jammed is much more important. This is why it's essential to track your containers with a direct connection to your shipping lines. After that, containers can also be tracked by satellite or IoT devices.
Why do you need container tracking software?
Container tracking software can help businesses make their operations more efficient in many ways. Firstly, it helps arrive at realistic, reliable ETAs/ ETDs so that logistics teams can plan the next stages of transportation and processing. This minimizes the risk of additional expenses such as detention and demurrage. Having real-time information about container locations and ETAs also puts businesses in a better position to communicate with customers and improve the experience offered. 
What should you look for in a container tracking software?
When it comes to choosing a container tracking software, there is a wide variety of solutions to choose from. To experience maximum benefits, you need to first ensure that the software is well-connected to the shipping network. For example, BuyCo is connected to 97% of all ocean carriers. It should provide reliable data with accurate ETDs/ ETAs. In addition, the solution should be easy to install and integrate with other existing systems.
How can a container tracking software influence your negotiations?
Choosing the right container tracking software can help you control expenses and puts you in a better position when negotiating rates and contracts. By tracking container movement, you can get a reliably accurate estimation of ETDs/ ETAs as well as how often the carriers make on-time deliveries and face delays. It ensures that you are no longer dependent solely on the shipper or a single GPS tracking device. You can also easily compare rates and carrier routes side by side on your dashboard. 
What are the best container tracking software?
BuyCo is one of the best solutions when it comes to container tracking software. It connects you with 97% of the global ocean carrier network and 100+ booking agents and forwarders. BuyCo lets you track container movement based on multiple different sources as well as entry and exit from ports and warehouses. This increased visibility empowers you to make better, faster and more informed decisions and streamline shipping operations for higher efficiency and productivity.
How does BuyCo Container Tracking Software work?
BuyCo connects you to a vast network forwarders and shipping carriers from a single dashboard. Once your container is booked, loaded on a vessel and on its way across the seas, the tracking software lets you keep an eye on where it is at all times. For this, it tracks container movement and verifies the passage of the ship against entry/exit checkpoints at warehouses, container yards, ports, etc. In the case of exceptions and anticipated delays, BuyCo gives real-time alerts to help you make informed decisions. 
Our customers' feedback
Overall Rating
Container Tracking Software: The Ultimate Buyer's Guide
Maritime shipping is an integral part of world trade. About 80% of all cargo is transported by sea. This form of transportation is much faster…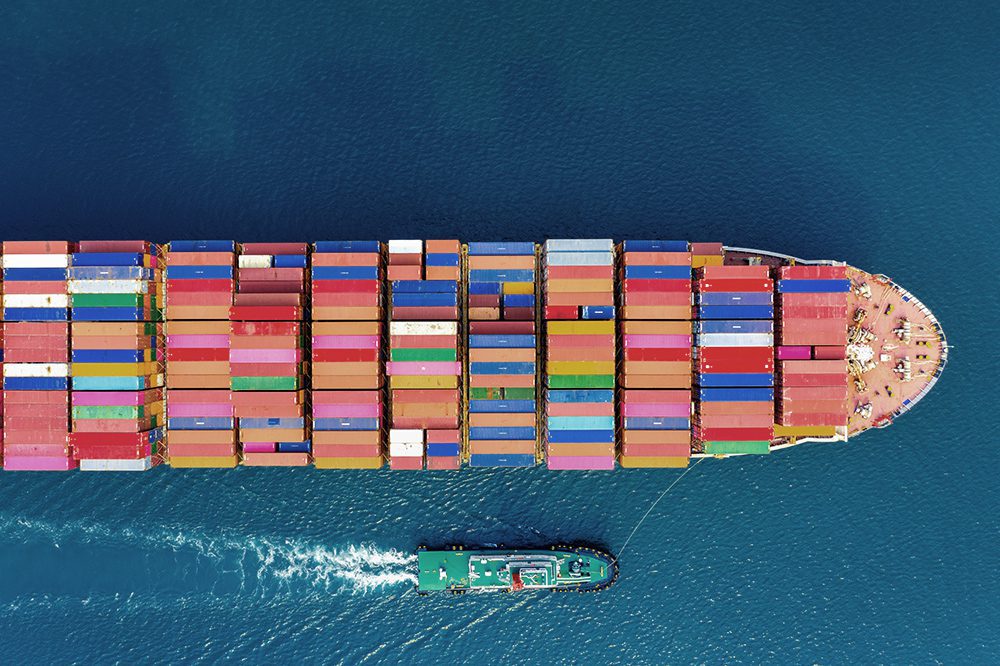 Everything You Need To Know About Container Tracking
To export your goods, your containers travel extensively and pass through the responsibility of many different partners. Tracking in…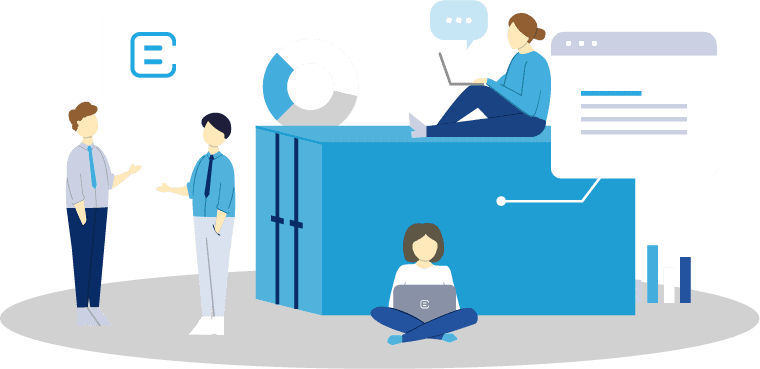 Ready to streamline your supply chain?
Set up a personal demo and see how BuyCo will transform your ocean transportation